Product segment
For more than 190 years we have been specialising in the production of certified (FSC®, EMAS and IFS) natural brushes for hair care, body care and pet care as well as lifestyle brushes.
Out of love for our craft we constantly develop new products for and together with our customers, who entrust us with their needs from all over the world. True to our claim of promoting the use of local source materials and protecting the environment we produce brushes made primarily from local timbers. Which also applies to all other components we use. Thanks to various finishing methods and the use of individual lacquers and oils the products you receive are unique.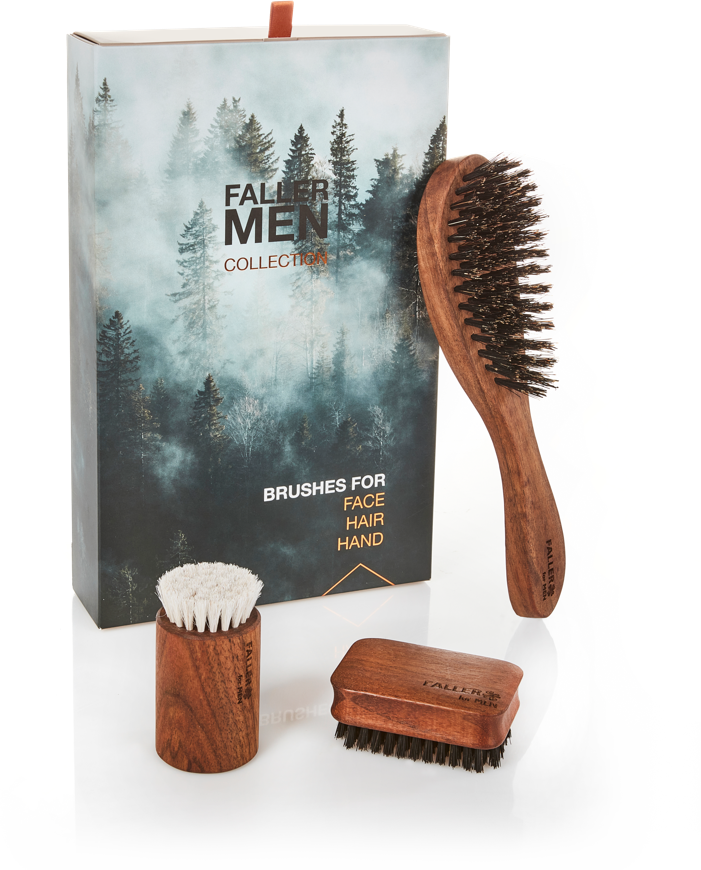 » Product segment 1
Hair & body care
Our range in the hair & body care segment covers hair and beard brushes, massage and hand wash brushes, bath and facial brushes.
» Product segment 2
Pet care
The selection of pet care brushes we offer is far-ranging. We can also work with you in the development of brushes for the daily fur care of all four-legged creatures: brushes for all sizes ranging from large to small.
» Product Segment 3
Lifestyle
There are times when we are so enthused by our passion that we develop new types of beautiful and practical brushes for everyday use.
» Product Segment 4
Collections
Our latest idea: to design thematic brush collections presented in beautiful product packaging. Which led us to create GENTLELINE and ROUGHLINE - care brushes for the man of character. The Black Forest line is, of course, particularly close to our heart.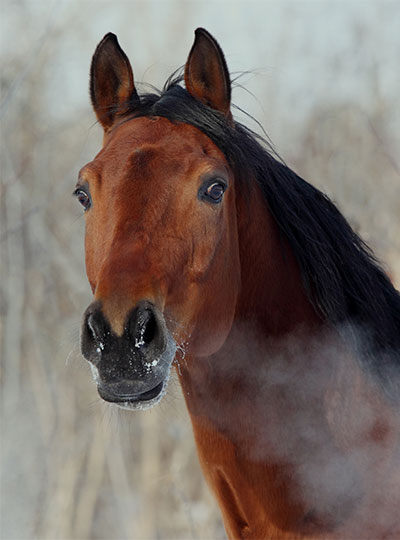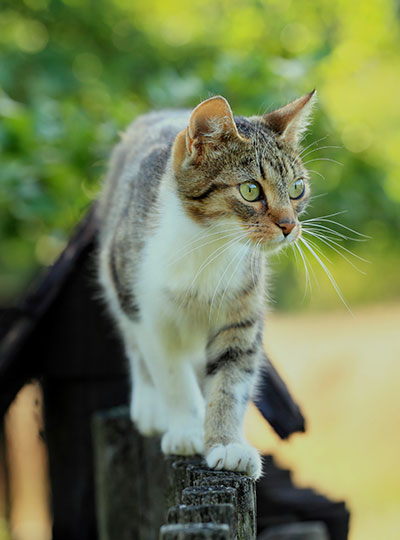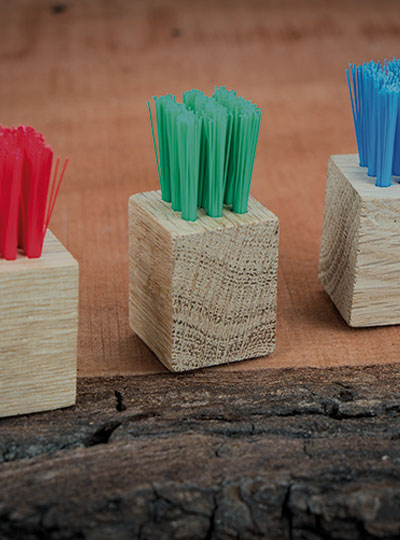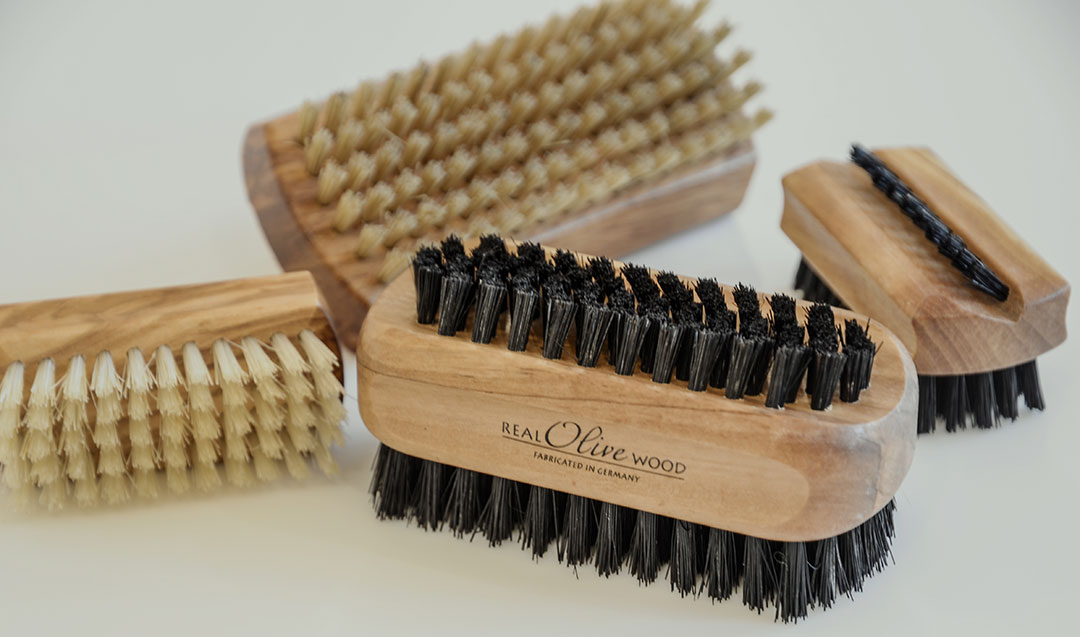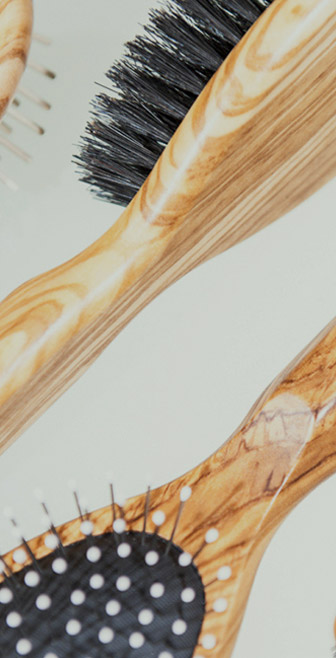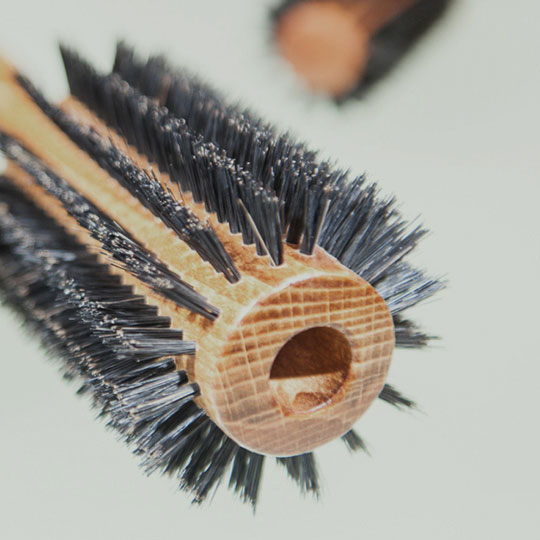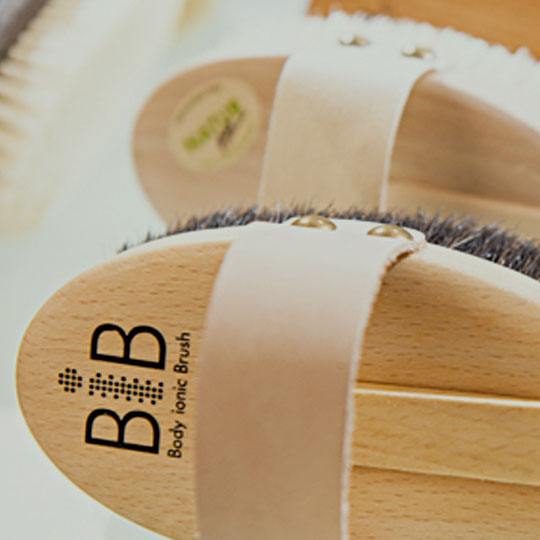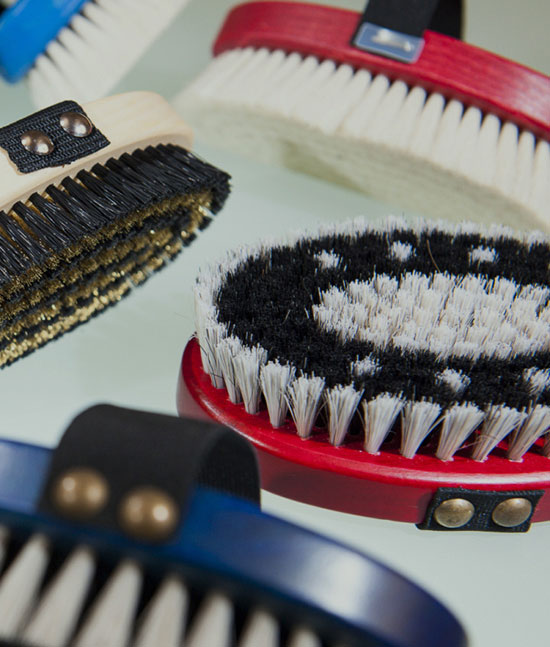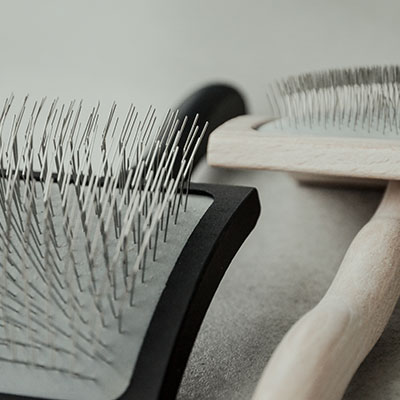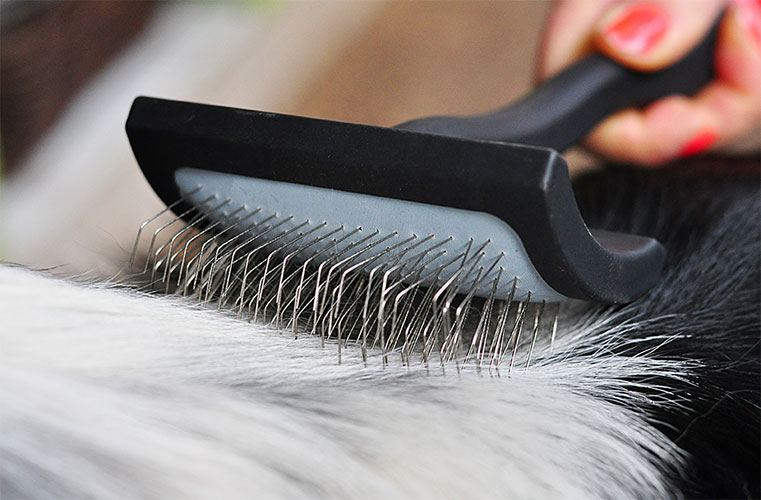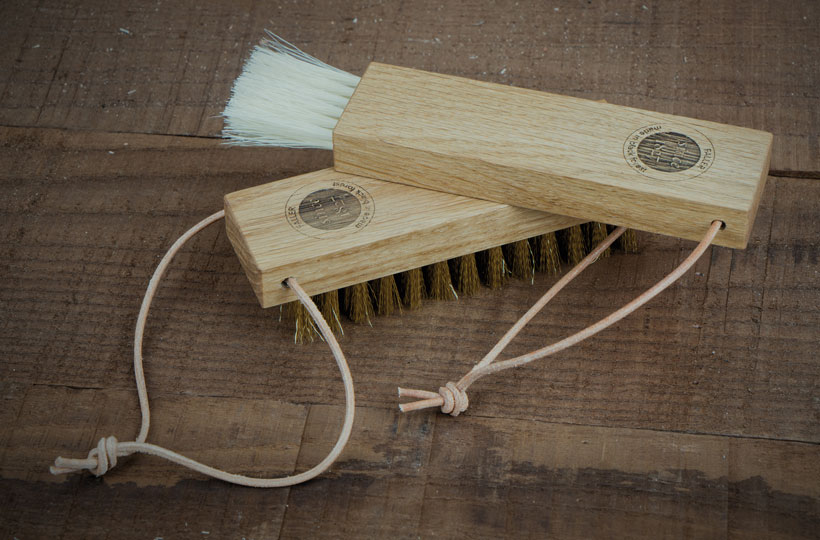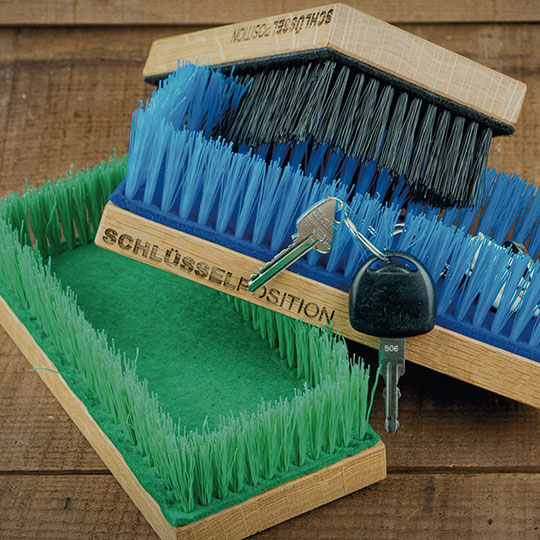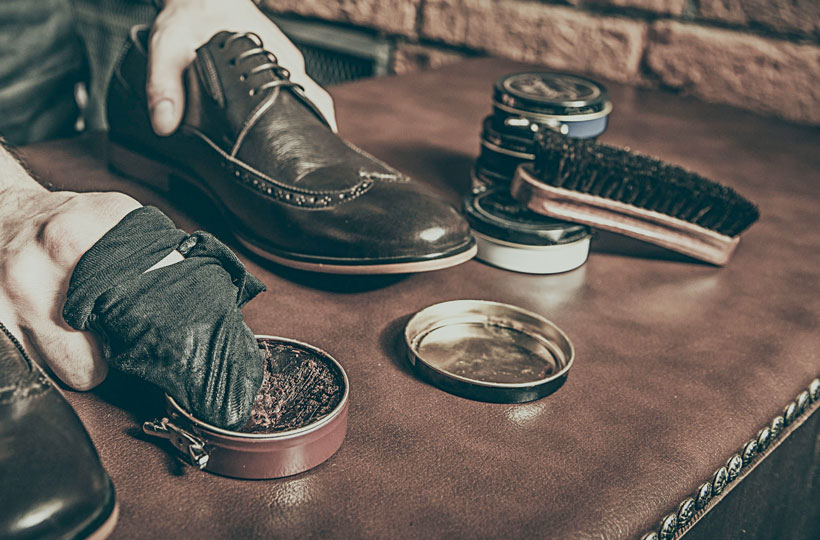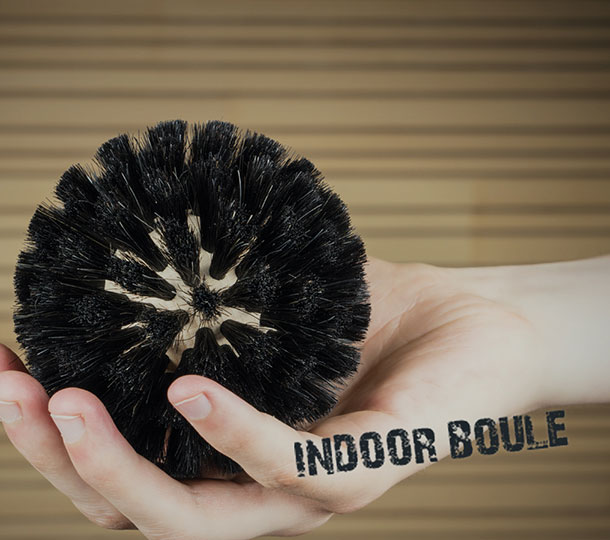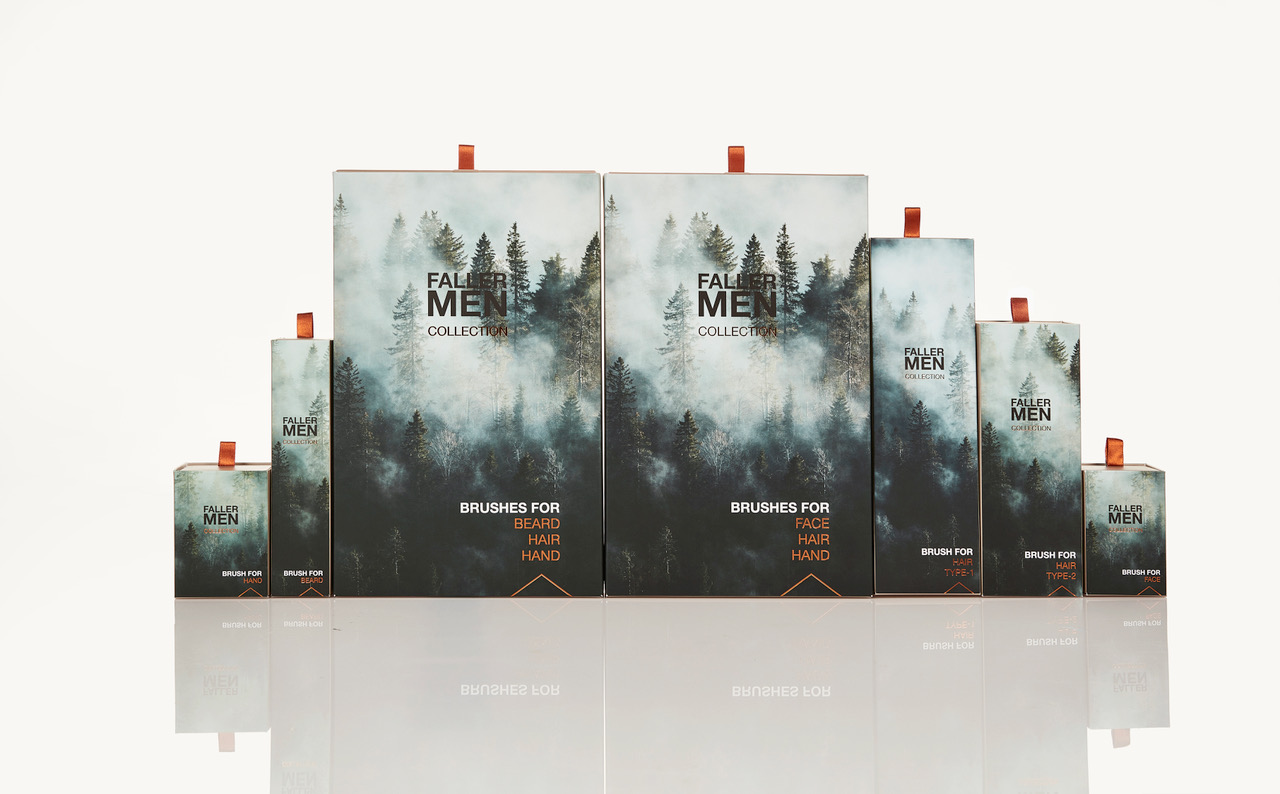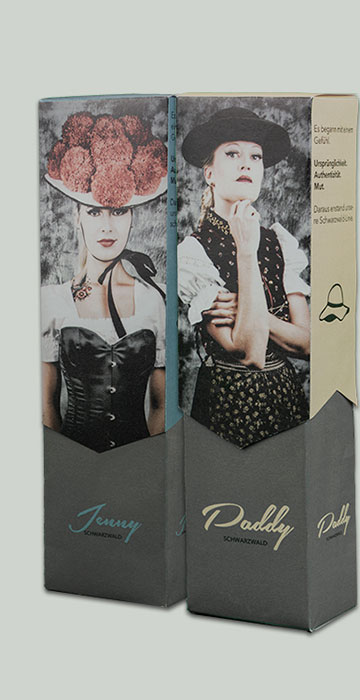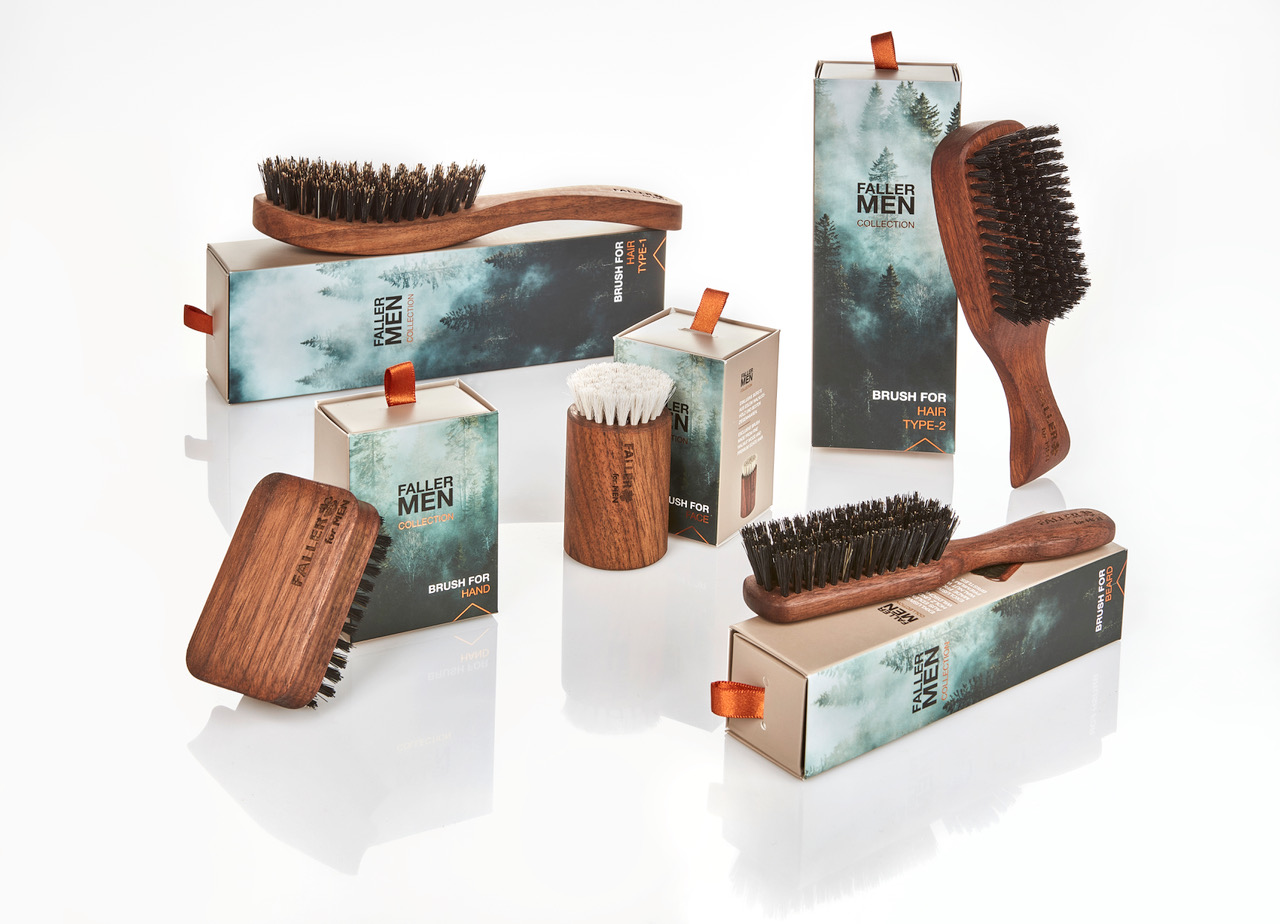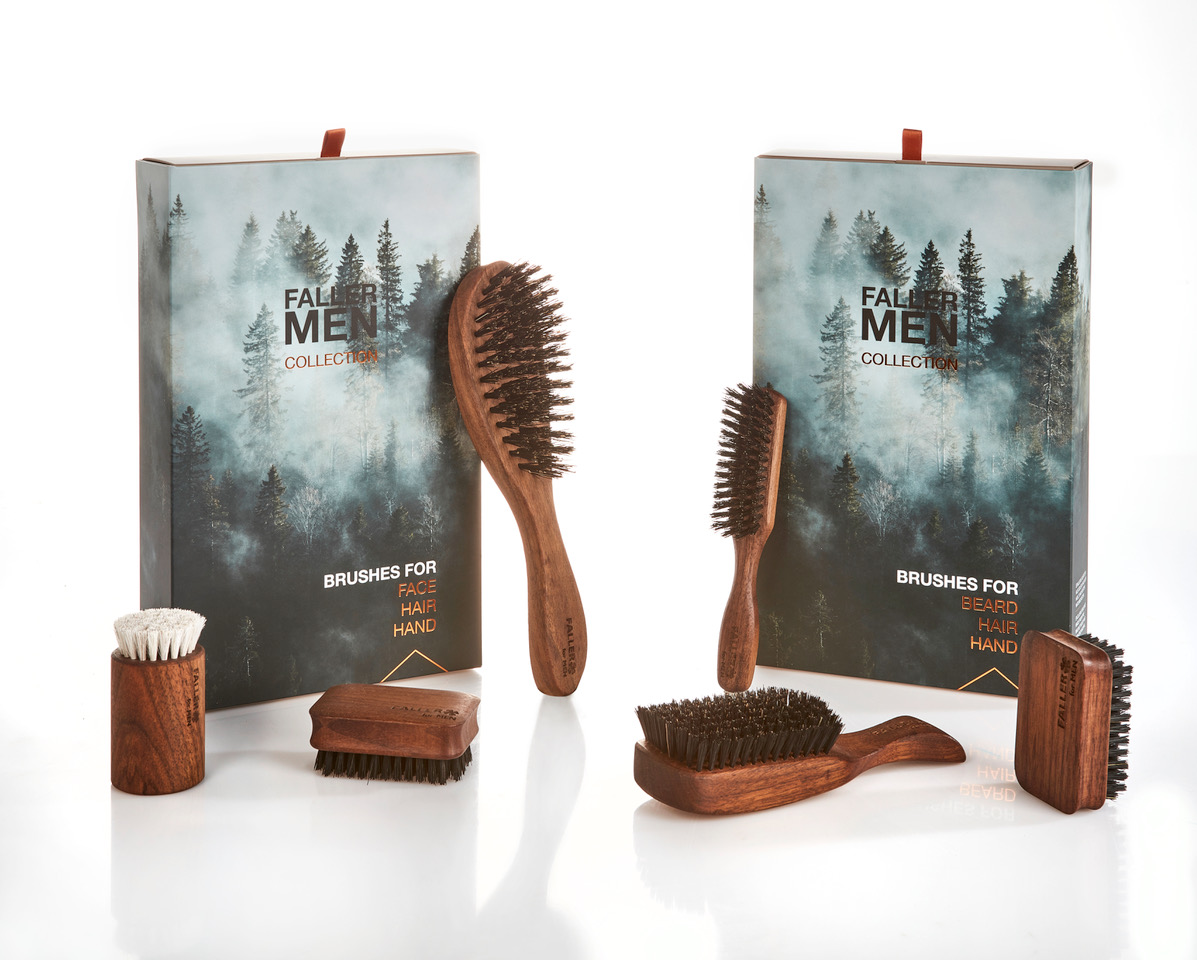 Individual solutions
The Faller company sees itself as a private label partner and offers you individually created products and designs. We develop brushes tailored to your specific requirements: for you or working together with you.
Production processes
Thanks to the wide variety of production processes and techniques we employ, when it comes to new ideas there are no limits. And if there are, we will find a solution.
» traditional hand-drawing
» machine-worked stamped brushes
» HRC ( human robot collaboration) produced brushes
Materials
There are also many options when it comes to materials. In addition to woods such as olive, oak, ash and thermally modified timber (TMT), composite materials are an important alternative employed across various areas of application. Our range of bristles can meet every need and comprises various types of boars bristle, horse hair, goat's hair and mane hair, in addition to premium wooden pins and metal pins in different alloys and even gilded 24 carat gold.
Our bristle pads are for the most part produced using materials from nature. Pleasantly soft for sensitive areas of use or firm where required.
Finishing
It is not only the individual design but also an individual finish that makes your products into something special. Oils and lacquers based on natural materials give a beautiful finish while at the same time ensuring that the wood retains its original character and is protected against environmental factors.
State-of-the-art techniques such as laser cutting or wood printing processes together with pad printing and hot stamping give our products their personal and individual touch.
Our claim –

Philosophy & mission
Crafting brushes has been our passion since 1827. Our grandparents and great-grandparents learnt the craft. Since then it has been passed on and developed further from generation to generation.
Our love for our home, the Black Forest, forms the basis of all we do. Nature and our staff are our greatest treasure and need to be protected. In accordance with our company philosophy we prefer natural materials.
As it was 190 years ago, "Made in the Black Forest" will continue to be a guarantee of high-quality natural brushes in the future. Identifying customer wishes and fulfilling them are just as important to us as securing long-term jobs and conserving our environment.
Our vision is to develop our craft further and to remain competitive in order to pass it on to the upcoming generations with love! Just as it has been for more than 5 generations.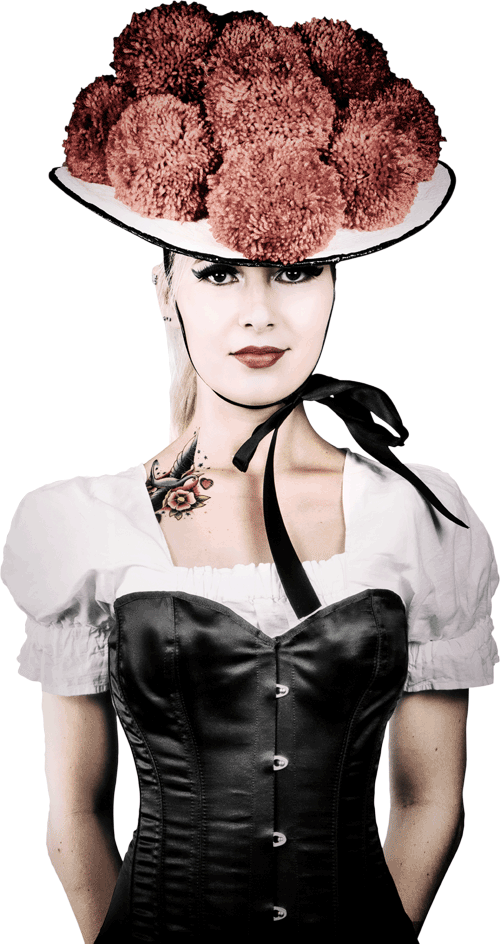 Quality management
OUR PROMISE:
The principles of care for the environment, local sourcing
and the highest quality govern the manufacture of our products.
For us as makers of natural products the responsible handling of natural resources is one of the key aspects of what we do. For Faller, sustainability is a fundamental principle that goes without saying. We regard ourselves as having a permanent ecological, economic and social responsibility towards our customers, suppliers and staff as well as the region.
For this reason, we have for many years been careful to deploy resources and materials as consciously and sparingly as possible. As an FSC®-certified company we support an environmentally friendly, socially sustainable and economically viable use of our earth's forests. Our products thus meet the high requirements of the Forest Stewardship Council®.
Since 2014 Bürstenfabrik Faller GmbH has been IFS-certified (International Featured Standard). This certification ensures the safety and quality of household and body care products. Our products are made using state-of-the-art machinery and traditional hand-drawing of brushes, the so-called front-end hand-drawing process. A sustainable and ecological way of doing business is enshrined in our company guidelines. We regard it as a principle that needs no explanation. Nevertheless, we see it as our entrepreneurial duty and responsibility to continue improving these guidelines to protect the environment now and in the future.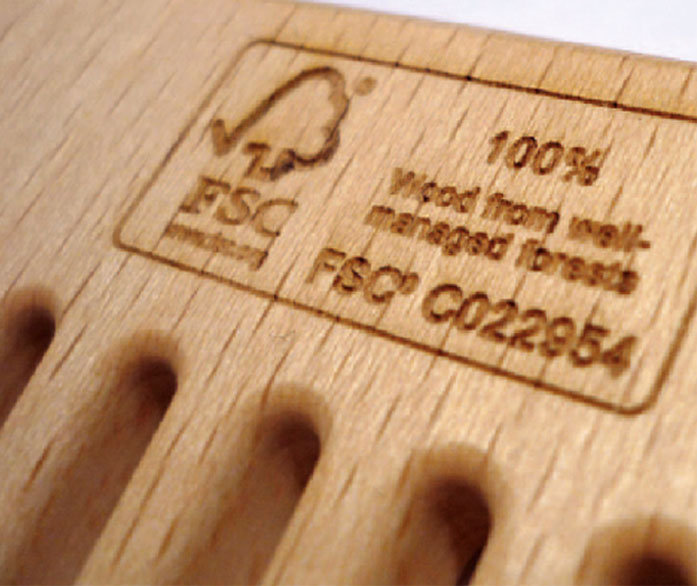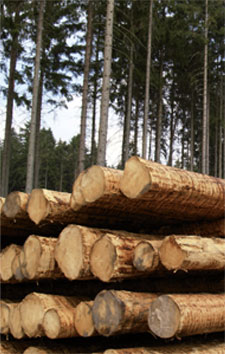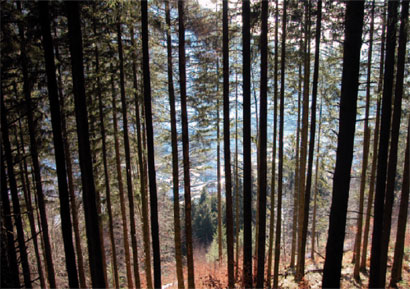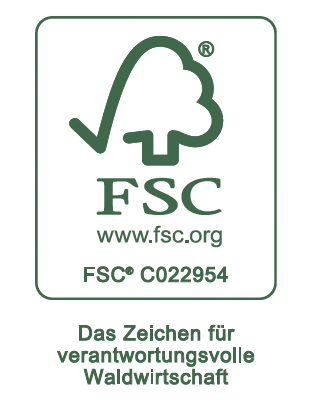 FSC® certification
Our company and the relevant products were first FSC®-certified in 2008. Our products thus meet the high requirements of the Forest Stewardship Council®. The conscientious handling of the available resources and adherence to ethical principles are, for us, another given.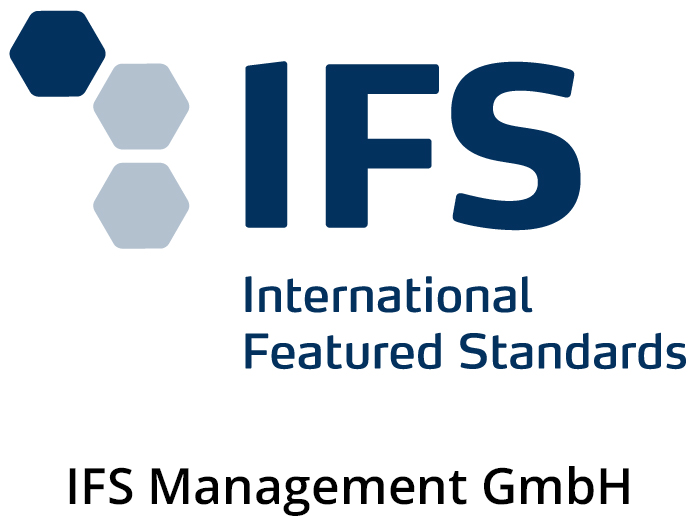 IFS certification
Since 2014, our company has also been IFS-certified (International Featured Standard), which means that the safety and quality of our household and body care products is guaranteed.
EMAS certification
The European Eco-Management and Audit Scheme (EMAS) is a core instrument of sustainable management. Its strengths lie particularly in its efforts to improve environmental performance, external communications, legal certainty and to involve employees. Furthermore, validation by state-approved, independent environmental verifiers contributes to the high level of credibility enjoyed by EMAS.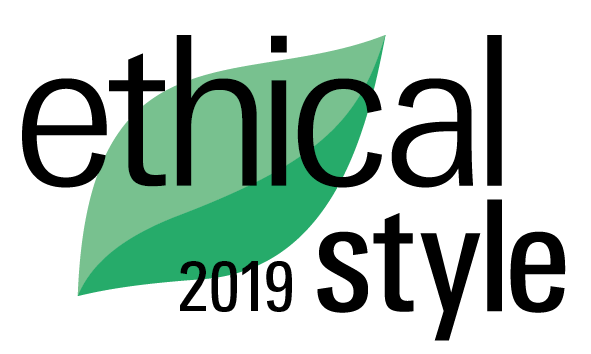 Ethical Style Guide
In diesem Jahr sind wir in den Ethical Style Guide zur Ambiente 2018 aufgenommen worden. Eine unabhängige Jury mit Fachleuten der World Fair Trade Organization, des CBI (Centre for the Promotion of Imports from developing countries) sowie des Rats für Formgebung und weiteren Experten, entscheidet über die Aufnahme im Ethical Style Guide. Wir freuen uns sehr über diese Auszeichnung.
How to Care for your brush
In order for you to enjoy your hair brush for a long time to come, we recommend that you clean it and care for it regularly.
First, free your brush from loose hair and dandruff using a brush cleaner. After that, the brush should be washed in lukewarm water to which a touch of shampoo has been added. To this end, dip only the bristles in water and move the brush back and forth.
Please take care to ensure that the brush body does not get too wet.
After this, rinse the brush well in clear water and then place it on a cloth, for example. For drying. The bristles should paint down during the drying process. Never leave a brush to dry near a radiator – normal room temperature is ideal.
Proper handling of all brushes prolongs their life.
Hair type & use
Without background knowledge it isn't quite so easy to find the right brush for your particular type of hair and the use you have in mind.
This is why we have developed a colour coding system for our brushes linked to use and hair type, which is clearly visible on the packaging and will help you find the right brush.
Within the following categories
you will find different types of bristles to match your intended use.
Take a look at our how to use videos.
Natural bristles
Boarbristles/Natural bristles are very similar to human hair and are therefore able to spread the natural oils from spots where there is too much oil to spots which are dry or damaged. You will already see a natural gloss in your hair while still brushing. Another important characteristic of this bristle is, that it can prevent split ends.
Important: Brush your hair also against the growth direction. Lean your upper body forward and start to brush slowly from your neck-hairline to the end of your hair in one stroke. Afterwards follow the brush stroke with your free hand and smooth your hair. One thing will be noticeable immediately: your hair will look voluminous and shinier than before.
Wooden pins
Long wooden pins are especially suitable for caring about long hair. The rounded pins stimulate the skin on your scalp, which helps the blood circulation in your scalp too. The wooden pins are additionally anti-static and your hair can therefore not be electrostatically charged. Wooden pins, compared to metal pins, do not absorb a lot of heat when blow-drying your hair. It is specifically good for sensitive scalps. Strong curls can easily be tamed with wooden pins.
Synthetic fibre
Cleans rough dust and dirt. Especially suitable for brushing wet hair, as well as styling your hair. (Due to sliding smoother through your hair compared to natural bristles, more suitable for long hair)
Metal pins
Especially suitable for wet hair, as well as styling. Ball tips at the end of the pins give your scalp a pleasant feeling when brushing. Also very suitable to untie messy hair. Great for long and strong hair.
Bristles + Pins
Special fine bristle-bundles in combination with rounded pins give an extremely pleasant feeling when brushing or styling your hair. At the same time, the scalp will be massaged. Due to an elastic and strong rubber cushion, brushing feels extremely pleasant and gentle. Suitable for strong as well as fine/thin hair. Perfectly manufactured rubber cushions and wooden pins are the reason that it does not rip out any hair.
Contact
We are looking forward to your contact!
Bürstenfabrik Faller GmbH
Johann-Baptist-Keller Str. 1
79674 Todtnau
Tel. +49 7671 992599-0
Fax +49 7671 992599-50
info@faller-buersten.de